ISO 9001
The Registration of ACA SEKKEI COMPANY LIMITED for the ISO 9001 Quality System was approved as of 28 May, 2001.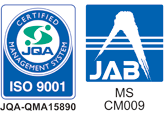 Quality Policy
– Having a spirit which is responsible for the improvement of the culture through architecture
– Meeting customer needs and challenging the new trial based on reliable technology
– To attain improvement in the business with awareness of the quality management system
A

: Aspiring

C

: Create

A

: Architects
President's instructions
To Improve customer satisfaction by excelling in quality and technology through human resource development.

October 1, 2023
Yoshinori Kobayashi, President
Quality Objective
– Design Department: By achieving specific personal goals that will lead to improved skills, we aim to improve the technical and proposal capabilities of the entire design department, and aim for those who achieve 90% in work evaluations to be at least 70% of the entire department.
– Supervision department: Participate in various inspections at newly managed properties other than the properties under supervision to improve quality and technology.
Description
| | |
| --- | --- |
| Company Name | ACA SEKKEI COMPANY LIMITED |
| Applicable Standard | JIS Q 9001 : 2015 (ISO 9001 : 2015) |
| Registered Quality System | Design and Supervision of Architecture |
| Registration Number | JQA-QMA15890 |
| Initial Registration Date | May 28, 2001 |
| Term of Validity | March 31, 2024 |